Products > Solid Tyres >
Solid Tyres
Key Features
Our Range of Solid Tyres are Specially designed to withstand Extreme Mechanical Stress and Strains. The Tyres are Manufactured, based on Latest Multi - Layer Manufacturing technology. The Three Layers, Inner Core, Centre Cushion & Outer Tread Comprise of Varying Rubber Hardness.

These Three Layers are a Blend of Different Natural & Synthetic Rubber Formulation to give each Layer its Requisite Properties required during Dynamic Operations.
Core
The Inner Core is made up of Hard SBR & Natural Rubber Blend & Re-Inforced with Hi Tensile steel Bead Wire Which Enhances its grip with Rim & results in better Compression Set (Compression Set Being Rubber's Property to Retain its Original Size & Shape).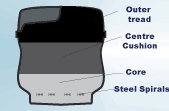 Centre Cushion
The Centre Cushion is made up of Soft Natural Rubber to give good Cushion effect & high Flex Resistance.

Outer tread
The Outer Tread Formulation is a Blend of Natural & SBR Rubber which gives it high  abrasion resistance properties &  High, Cut and Chipping Resistance also. The tread is designed to give the Tyre Low rolling resistance & Maximum Traction & Stability thereby making it Energy efficient.

The Tyre Rolling out of Our Manufacturing Plant is Highly Versatile, Multi - Layer Integrated Tyre having low Heat Build up, High wear & tear Resistance and Substantial Load Carrying Capacity.
Sizes and Dimension Details:

*Customized sizes and shapes can be Made-to-Order on bulk basis.


 Tyre Code

Tyre Size

Rim Size

Width


(Inch)

Diameter 

(Inch)

Load Capacity
Steering Wheels (Kgs)

EST  103020

3.00 - 4

2.10 - 4

3.3

10

175

EST  123525

4.00 - 4

2.5 - 4 

3.3

12

300

EST  124025

4.00 - 4

2.5 - 4

3.9

12

350

EST  124025

4.00 - 4

2.5 - 6

3.9

12

375

EST 154530 

15 X 4 ½ - 8

3.00 - 8

3.5

15

730

EST  155030

15 X 5 - 8 

3.00 - 8

5

15

800

EST  164030

4.00 - 8

3.00 - 8

3.9

15.9

830

EST  165040

4.00 - 8

4.00 - 8

4.9

15.9

900

EST  185030

5.00 - 8

3.00 - 8

4.9

17.9

875

EST  216040

4.00 - 9

4.00 - 9

6.7

20.15

1375

EST  218060

21 X 8 - 9 

6.00 - 9

7

20.27

1950

EST  236555

6.50 - 10

5.50 - 10

6.75

22.8

1800

EST  239065

23 X 9 -10 

6.50 - 10 

6.85

20.47

2425

EST  260750

7.00 - 12 

5.00 - 12

6.97

25.39

2190